Speed Dating Software
SpeedMatchApp is a professional speed matching software designed for speed dating and speed networking events in any industry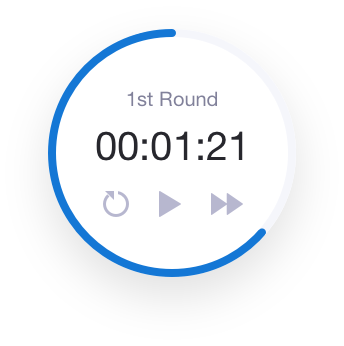 ---
Key Features
Manage your events more effectively by matching your attendees, facilitating connections, saving time and create happy and loyal customers

Customizable fields
Easily customize the settings for your specific event needs. Create custom fields and icons that are designed for speed dating and speed networking events in your industry.

Roundless Mode
For the mixers and other relaxed event formats, our software offers the option to run the event without preset rounds. Attendees select who they would like to engage at any time during your event.

Event Statistics
Event statistics are available to assist in improving attendance, client satisfaction, and marketing effectiveness.

Eventbrite integration
Our system is integrated with Eventbrite software to synchronize your attendees personal information and obtain their profiles and preferences for your events.

Custom Branding
Customize the user interface with your own company branded logo for maximum personalized marketing exposure.

App Integrations
With a few clicks link your attendee profiles seamlessly between SpeedMatchApp and various other web apps, so you can utilize your data fully and get more done (Coming Soon).

Matching Algorithms
Our smart matching algorithms will match people based on their preferences and help them make deeper and more valuable connections at your events.

Autopilot Mode
Choose the Autopilot mode and let our software run the event for you. Our technology facilitates the event so you can focus on engaging your customers.
What Our Users Say
Our users share their own personal experience using SpeedMatchApp as organizers or attendees of speed dating and speed networking events
" SpeedMatch has been the perfect addition to my matchmaking business. It has allowed me to network and expand my reach while also finding new clients and potential dates for my clients. I've been hosting singles events for 8 years but using speedmatch has been the game changer in creating the best events yet. We've also had several relationships come out of the events! "
" Thank you for making me feel so comfortable Dr. Frankie! I have been so burned out by using the dating apps and getting nowhere. I felt at ease at your fast flirting event and had wonderful in person conversations with some incredible women. I appreciate how organized and kind you are. The event flowed well and the text rating and notice system was a plus! "
" This speed networking was incredibly well executed, even for someone who isn't very tech savvy. It was the first time I've done anything like this, and it was so much fun! The people that I met at the event were an incredible mix of amazing and interesting people. The format made it easy to talk to people whom I did and did not have formal meetings with. I made several new friends! "
" This was my first time speed dating and I have to say it was a very positive experience. Great way to meet lots of women looking to date in a short period of time. The event was organized, and I enjoyed every conversation I had! They sent texts every round with little ice breakers to get your convo started. I'll definitely go again. "
" This is a terrific event - lots of different kinds of people, and a unique format. Having a bit of pre-screening for your dates, which the app that they use allows, means that you get a bit closer to meeting your "type". I did meet people I want to be friends with, do business with, and date! So, I recommend this app. "
" I enjoyed this speed dating event MUCH more than 90% of the online dates I've been on. It was much more efficient to meet 12 people in 2 hours rather than all the build up that goes with an online date, only to find that there is no connection after 5 minutes. I would definitely attend your other events. The organizers were friendly. The event space was classy. The event was well-organized. "
" This was my first speed networking event and it went off without a hitch! From the very beginning the hostess made me feel very welcome and I was highly impressed with the caliber of the attendees! This event was well organized and lots more fun than I was expecting and I can't wait to meet more cool people at future events! The location was also very chill and spacious which is also a plus! "
Industries
Professional event organizers from different industries are using our speed dating and speed networking software to effortlessly manage their events

Dating
Networking
Social
Business
Entertainment
Recreation
Adventure
Health
Career
Communities
Education
Pricing
Our competitive and flexible pay-per-use pricing model makes running events of any size cost effective and scalable
Standard
Pricing available upon request
---
•

Customizable fields

•

Matching

•

Autopilot Mode

•

Roundless Mode

•

Event Statistics

•

EventBrite integration
Start Free Trial
Premium
Pricing available upon request
---
•

All Standard Features

•

Custom Branding
Start Free Trial
Standard
Pricing available upon request
---
•

Customizable fields

•

Matching

•

Autopilot Mode

•

Roundless Mode

•

Event Statistics

•

EventBrite integration
Start Free Trial
Enterprise
Coming soon
---
All Premium Features And More
Contact Us
Still Have Some Questions?
We would love to hear from you!